PAYMENT OF INVOICE for Selectronic Certified Upgrade Service
$

1.00

AUD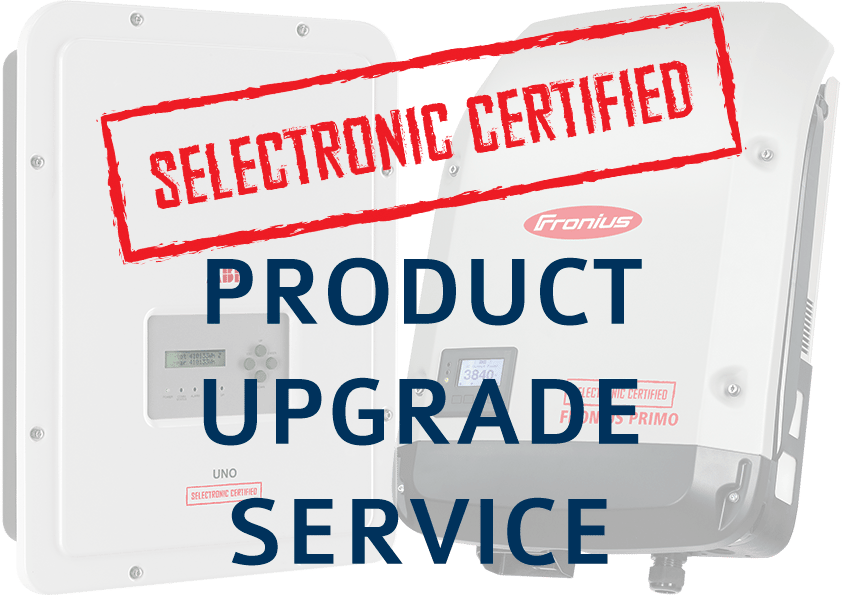 This page is for payment of invoices to upgrade an existing ABB UNO, Fronius Primo or Symo grid inverter to 'Selectronic Certified' (SCERT) to make it compatible with the Selectronic SP PRO Managed AC coupling.
PRICE LIST*
ABB UNO (3 kW - 6 kW) Selectronic Certified Upgrade Service (005350)
= $715.00
Fronius Primo (3 kW, 4 kW and 5 kW) Selectronic Certified Upgrade Service (005271) = $715.00
Fronius Primo (6 kW and 8.2 kW) Selectronic Certified Upgrade Service (005272)
= $858.00
Fronius Symo (8.2 kW - 15 kW) Selectronic Certified Upgrade Service (005349)
= $1,100.00
Fronius Data Manager card (005280) = $594.00
Please follow the instructions carefully:
1. Place an order directly with Selectronic for the SCERT upgrade and include the inverter model number and serial number of each inverter to be returned. Email this to orders@selectronic.com.au.
**DO NOT send the inverters to [be] upgraded yet.**
2. If the Fronius inverter has a faulty or no Data Manager Card, please then also order one card for each Fronius inverter being upgraded.
**If your Fronius Primo has an existing Data Manager card and is found to be faulty, you will be asked to purchase a data manager card before the upgrade will proceed.**
3. Selectronic will email you a Pro Forma Invoice which will include the allocated Job number and return freight to you. Please attach a copy of this invoice to each of the inverters to be returned to Selectronic for upgrade.
4. Purchase your order for the SCERT upgrade here, using the quantity box to match your pro forma invoice. For example if the value of your invoice is $1,250, then order a quantity of 1250 as payment for the invoice.
**PLEASE ENSURE to put your Pro Forma invoice reference number in the Notes section of the checkout.**
5. Ship the inverters to Selectronic. You pay the freight.
6. Please allow 10 working days from when we receive your inverters to process your order.
*PLEASE NOTE:
- Above prices are the list price include GST Shipping cost for the return freight and insurance will be added to the Pro Former Invoice.
- Selectronic Certified Upgrade Service is currently only available in Australia. Please contact us at enquiries@selectronic.com.au if you would like this service overseas.
- For more information on the benefits of Selectronic Certified Inverters, please visit: http://www.selectronic.com.au/scert/